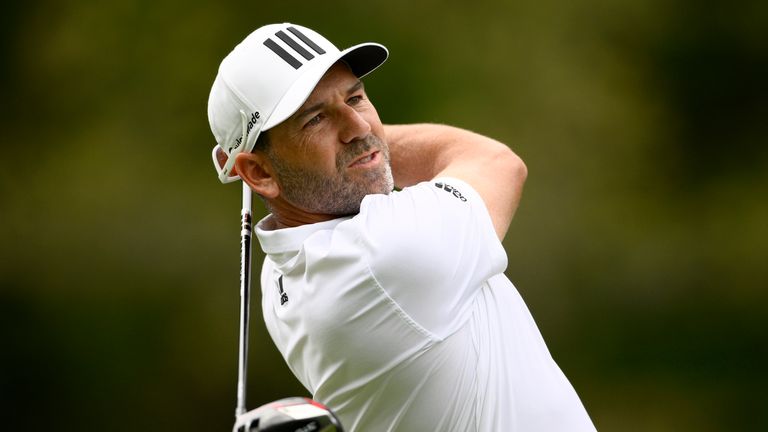 DP World Tour: LIV players to be fined and suspended; Players suspended from Scottish Open – Sky Sports
Read Time:
9 Minute, 51 Second
"Every action anyone takes in life comes with a consequence and it is no different in professional sport, especially if a person chooses to break the rules. That is what has occurred here with several of our members." – Keith Pelley, Chief Executive of the DP World Tour
Last Updated: 24/06/22 5:06pm
The DP World Tour have confirmed that players who have joined LIV will be fined and suspended from future tournaments, including the Scottish Open in July.
Players who participated at the opening LIV Golf event at Centurion Club from June 9-11 will each be fined £100,000 and are suspended from the following events: the Genesis Scottish Open and Barbasol Championship (July 7-10) and the Barracuda Championship (July 14-17).
Ian Poulter, Lee Westwood and Sergio Garcia all joined the Saudi-backed breakaway venture at Hertfordshire earlier this month despite not having received releases to do so.
The PGA Tour indefinitely banned all its members within minutes of the players teeing off at Centurion Club but the DP World Tour delayed making a decision.
The DP World Tour has now also confirmed that participation in further conflicting tournaments without the required release "may incur further sanctions."
Keith Pelley, Chief Executive of the DP World Tour, said: "Every action anyone takes in life comes with a consequence and it is no different in professional sport, especially if a person chooses to break the rules. That is what has occurred here with several of our members.
"Many members I have spoken to in recent weeks expressed the viewpoint that those who have chosen this route have not only disrespected them and our Tour, but also the meritocratic ecosystem of professional golf that has been the bedrock of our game for the past half a century and which will also be the foundation upon which we build the next 50 years.
"Their actions are not fair to the majority of our membership and undermine the Tour, which is why we are taking the action we have announced today."
Sky Sports News understands that fines are set to double for those playing in each future conflicting tournament, as well as bans from the events themselves.
Contrary to reports, it is also understood that LIV will not pay the fines, only possible legal fees players incur for appealing the sanctions.
Notable names lining up at the next LIV event in Portland
| | | |
| --- | --- | --- |
| Player | Country | World Ranking |
| Dustin Johnson | USA | 16 |
| Brooks Koepka | USA | 19 |
| Abraham Ancer | Mexico | 20 |
| Louis Oosthuizen | South Africa | 23 |
| Bryson DeChambeau | USA | 30 |
| Patrick Reed | USA | 38 |
| Talor Gooch | USA | 39 |
| Sergio Garcia | Spain | 59 |
| Phil Mickelson | USA | 83 |
| Lee Westwood | England | 85 |
'Just a rap on the knuckles'
Analysis from Sky Sports News reporter Jamie Weir:
"We've been waiting with baited breath to see what the DP World Tour's response would be to the LIV rebels, to the players who chose to break sanctions and play in that first LIV event.
"We now have it and it's important to point out this is just a punishment for playing in that first event. They've been fined £100,000. They've also been suspended from participating in three DP World Tour tournaments.
"So as things stand, this isn't nearly as severe as the suspension being handed down to PGA Tour players, they've been suspended going forward from all PGA Tour events.
"They've been removed from the FedExCup standings. European Tour players are still on the Race to Dubai and this statement hasn't banned them from any future DP World Tour events yet. It does say participation in further conflicting tournaments without required releases may incur further sanctions. That 'may' is probably a 'will' I would imagine.
"It's just a rap on the knuckles really at the moment for the DP World Tour players and it still leaves many unanswered questions: What will the nature of the relationship between the PGA Tour and the DP World Tour be going forward? It's my understanding that talks are ongoing at the moment about the PGA Tour acquiring a bigger stake in European Tour productions and further strengthening that alliance between the two tours.
"And what does it mean for the future of the Ryder Cup? I think that is a big question and a big concern for a lot of golf fans.
"Because at the moment, you need to play four DP World Tour events to be eligible to be in the Ryder Cup team. If you're not playing any DP World Tour events going forward, can you be in the Ryder Cup team and what does that mean for what is a tournament that everybody holds so dear and has such affection for?
"I think there are many unanswered questions from this statement."
'A measured response'
Analysis from Sky Sports Golf expert Paul McGinley:
"Something had to be done. I think there was a measured response from the European Tour in this regard. They've been very careful in what they've done and how they've gone about it. It's taken time to reach this stage unfortunately.
"The sanctions are proportionate to what's happened. The players have played one event and it's obviously a clear breach of our regulations. We're dealing with that situation one step at a time. If there's a second tournament we may well look at something else and a third tournament we may well look at something else. I think this is a step by step process and we don't want to jump too far ahead in anything we do.
"It is telephone numbers that's being put on the table for these players. I can see why a lot of players see the value in taking tens of millions and in some case hundreds of millions off the table to join this tour. But they have to protect the business of the European tour and they have to protect also the players who have stayed with the European tour, who have not gone and joined the LIV tour.
"We feel that £100,000 is a significant amount of money and we feel this is proportionate for the clear breach that has happened.
"There's a clear line in the sand here, that line is becoming clearer and clearer and it's really sad that it's come to that where players are having to make a choice what side of the fence they're going to be on.
"It is a big, big decision that the tour and [Europe's captain] Henrik Stenson and everyone involved in the Ryder Cup is going to have to make."
Rory McIlroy labelled the players who have joined the LIV Golf Series "duplicitous" for the way they have handled their breakaway from the PGA Tour.
Four-time major winner Brooks Koepka is the latest big-name player to quit the PGA Tour to join the controversial breakaway series, joining the likes of Dustin Johnson, Bryson DeChambeau and Phil Mickelson.
Koepka withdrew from the latest PGA Tour event, the Travelers Championship in Connecticut which started on Thursday, and will compete in the second LIV event in Portland next week. The 32-year-old's decision comes after he seemed to indicate he would not be joining the Tour when asked ahead of the US Open last week.
Asked whether he was surprised by Koepka's decision before it was officially announced, the Northern Irishman said: "Am I surprised? Yes, because of what he said previously.
"I think that's why I'm surprised at a lot of these guys because they say one thing and then they do another and I don't understand.
"I don't know if that's for legal reasons or if they can't – I have no idea – but it's pretty duplicitous on their part to say one thing and then do another thing, in public and in private."
LIV Golf confirmed later on Wednesday that Koepka had joined the breakaway tour and will compete at Pumpkin Ridge Golf Club in Portland.
Responding to Koepka's departure, PGA Tour commissioner Jay Monahan said: "I am disappointed that Brooks Koepka has left and joined the LIV Golf series.
"I have not had a chance to talk to him about it, and I look forward to having a conversation with him, but I am not going to share any more than that at this point in time.
"Every player that has left, I have great admiration and respect for the contributions they have made to the PGA Tour. And I think a lot of players have had a hard time making that decision [to leave]."
The R&A has announced golfers playing in the LIV series will be allowed to compete at next month's 150th Open.
The decision to allow those already qualified or exempt means high-profile players Dustin Johnson, Bryson DeChambeau and Phil Mickelson – a former Open champion – will be able to play in the final major of the year at St Andrews.
The R&A's decision echoes the USGA, who last month allowed qualified LIV golfers to compete at last week's US Open at Brookline.
Martin Slumbers, chief executive of The R&A, said: "The Open is golf's original championship and since it was first played in 1860, openness has been fundamental to its ethos and unique appeal.
"Players who are exempt or have earned a place through qualifying for The 150th Open in accordance with the entry terms and conditions will be able to compete in the Championship at St Andrews. We are focused on staging a world-class championship in July and celebrating this truly historic occasion for golf.
"We will invest the proceeds of The Open, as we always do, for the benefit of golf which reflects our purpose to ensure that the sport is thriving 50 years from now."
Get the best prices and book a round at one of 1,700 courses across the UK & Ireland
Get the best prices and book a round at one of 1,700 courses across the UK & Ireland