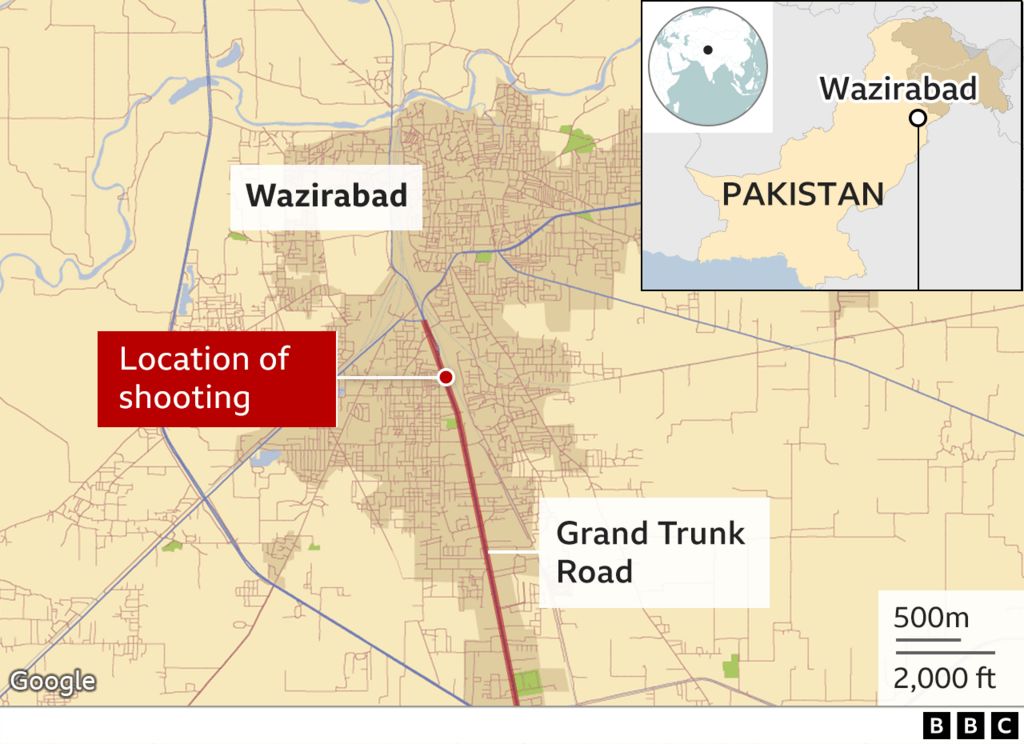 Imran Khan: Shock and condemnation over attack on Pakistan ex-PM – BBC
Read Time:
4 Minute, 25 Second
A gun attack on Pakistan's former prime minister Imran Khan which supporters say was an attempted assassination has drawn international condemnation.
Mr Khan, 70, is recovering in hospital after being shot in the leg on Thursday at a protest march within Warzirabad in the north-east of the country.
His camp said he was in a stable condition, and could potentially leave hospital in the coming days.
One person was killed and at least 10 injured when his convoy faced gunfire.
The attack upon Mr Khan has electrified the country. Mr Khan's party – the Pakistan Tehreek-e-Insaf (PTI) – has called for nationwide protests right after Friday prayers. Schools have been closed in the particular capital Islamabad.
Pakistan's leaders have condemned the attack on their opponent, with President Arif Alvi calling it a "heinous assassination attempt" and Prime Minister Shehbaz Sharif ordering an immediate investigation.
US Secretary of State Antony Blinken has also called for calm, saying: "Violence has no place in politics, and we call on all parties to refrain from violence, harassment and intimidation. "
The cricket star turned politician remains popular among voters but was ousted in April in a parliamentary vote.
He has since been fighting to return to office. Buoyed by strong PTI victories in recent local elections, Mr Khan had been leading a "long march" of protests calling for early elections to facilitate their comeback.
He has characterised his removal as a political conspiracy and been loudly critical for months from the current government plus military leaders. Courts possess convicted him in recent corruption cases but he has disputed the verdicts as politically motivated.
Pakistan has the record of political violence, with former prime ressortchef (umgangssprachlich) Benazir Bhutto assassinated within 2007. Many evoked her killing in the wake of the attack upon Mr Khan.
The country is also reeling from an ongoing economic crisis and devastating floods.
On Thursday he was standing on an open truck-bed surrounded simply by aides and his other party members when the shooting began.
It was the seventh day of his long march, which aimed to arrive in Islamabad next week. His truck was in Wazirabad, about 100km (60 miles) from Lahore.
Survivors through the convoy told the particular BBC that Mr Khan had been waving in order to supporters and was about to begin speaking to the crowd when the gunfire rang out.
"We could clearly see the attacker from atop the container, " one party staffer Mueezuddin, told the BBC.
"We saw the attacker had emptied a whole magazine… [and he had] loaded another magazine when he was grabbed by a boy from behind. "
He added: "It was so sudden that it took me a while to understand what was going on. "
Unverified videos on social media show an assailant within the crowd pointing his pistol at Mr Khan's convoy before being overpowered by Mr Khan's followers.
Mueezuddin said Mr Khan and those around him ducked quickly after the first shots, plus when he was hit he remained calm while he was given first aid by his bodyguards.
He has been then moved into the bulletproof car and rushed away to hospital in Lahore.
Footage of the incident and witness accounts suggested a security guard was also seen firing from the container.
Punjab Chief Minister Pervez Elahi has suggested there may have been more than one attacker, saying Mr Khan had already been "shot in the leg from the front while the alleged attacker who was caught on the spot had been on the right side".
Dispute over possible motive
Immediately after the shooting, some of his allies told media that Mister Khan believed the current political leaders – PM Sharif, the Interior Minister plus a military general – were behind the attack.
One spokesman, Raoof Hasan, told the particular BBC's Newshour programme the government was "attempting to eliminate [Imran Khan] physically".
Pakistan's leaders have not yet addressed such allegations.
Police on Tuesday night released a video confession of the man who they said had attempted to kill Mr Khan.
It's unclear the particular conditions under which the interview was carried out. But in response to police asking him why this individual had opened fire he or she said: "He was misguiding the people. I wanted to kill him. I tried to kill him. "
The video has been dismissed by Mr Khan's allies like a "cover-up".
One suspect remains within custody but no charges have been laid.