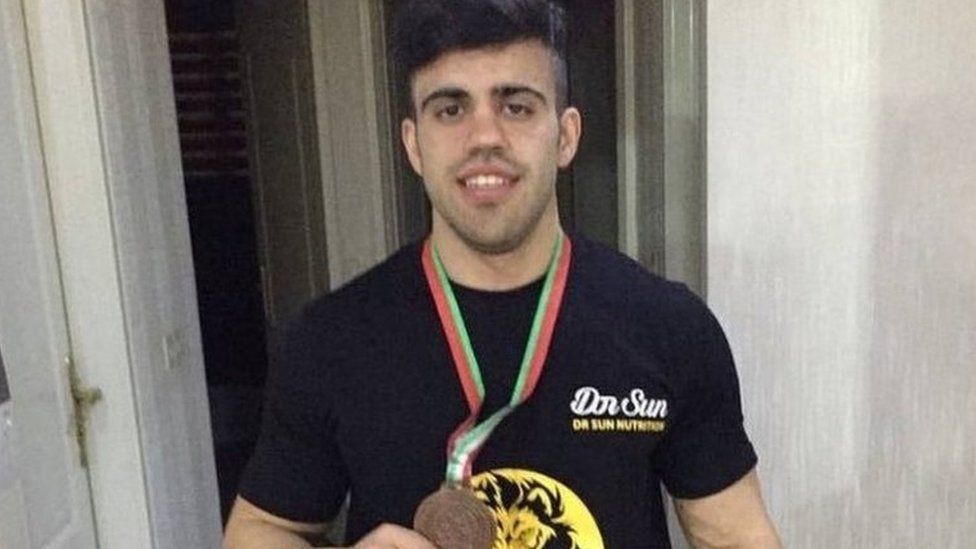 Iranian protester subjected to mock executions in prison – source – BBC
Read Time:
3 Minute, 34 Second
One of the six people sentenced to death over the current anti-government protests in Iran has been subjected to mock executions three times within prison, a source has told BBC Persian.
A Revolutionary Court in Tehran found Sahand Noormohammadzadeh, 27, guilty of "enmity against God" last month.
He was accused of setting a bin on fire and blocking traffic, which he denied.
Before his trial, the source said, Noormohammadzadeh was "asked to go on a chair blindfolded to be hanged".
Cruel or degrading treatment of people in custody is prohibited under international human rights law.
Iran's judiciary has announced that six defendants have so far been sentenced to death for either "enmity against God" or "corruption on earth" in connection in order to the protests.
It offers not disclosed their identities, but Sahand Noormohammadzadeh's lawyer confirmed in a video statement on Saturday that he was one of them.
The judiciary's Mizan news agency reported last month that Noormohammadzadeh was on trial before a Revolutionary Court for "[acts of] vandalism and arson of public property with the aim of causing disruption to the country's peace and order and confronting the Islamic government".
Prosecutors accused him of "participating in riots" in Tehran on 23 September and blocking the highway by "tearing down the highway railings and setting fire to rubbish cans and tires", according to Mizan.
They showed the court a video showing a man wearing a mask, who they alleged was Noormohammadzadeh, placing the railing between two lanes. The video also shows the same man pushing a burning garbage bin on to the particular road.
Noormohammadzadeh maintained his innocence in court, while his attorney said there was no evidence that his client was the masked guy, Mizan reported.
It is not clear whether prosecutors submitted to the court a letter of apology signed by Noormohammadzadeh following his arrest.
BBC Persian's source said he was told falsely by interrogators that his mother had suffered a heart attack and that he would need to sign the letter if he wanted to talk to her before she died.
A lawyer in Tehran said such a letter was considered an admission of guilt.
The death sentences handed to Noormohammadzadeh plus the five other defendants can be appealed towards, but judiciary chief Gholamhossein Mohseni Ejei said upon Monday that the executions would happen soon.
Iranian authorities have cracked down violently on the protests that erupted after the death within custody of Mahsa Amini, a 22-year-old woman who was detained by morality police in mid-September for allegedly wearing her hijab, or headscarf, "improperly".
More than 470 protesters, including 64 children, have been killed, while 18, 200 others have been arrested, according to the Human Rights Activists' News Agency (HRANA). It has also documented the deaths of 61 security personnel.
Many associated with those arrested have allegedly been subjected to torture and other ill-treatment in custody.
Arshia Emamgholizadeh, a 16-year-old boy, took his own life last week, six days after he was released from prison.
He was arrested in the north-western city of Tabriz and accused associated with "turban tossing" – a new trend among young protesters that involves sneaking up behind a Shia Muslim cleric on the street and knocking his turban off his head before running off.
"Arshia said this individual was given pills within prison and was beaten, " a source close to the family told BBC Persian. It is not known what the pills were.
Arshia did not leave a note and a video showed their mother crying over his grave and saying: "You were not suicidal, what do they do to you in prison? "