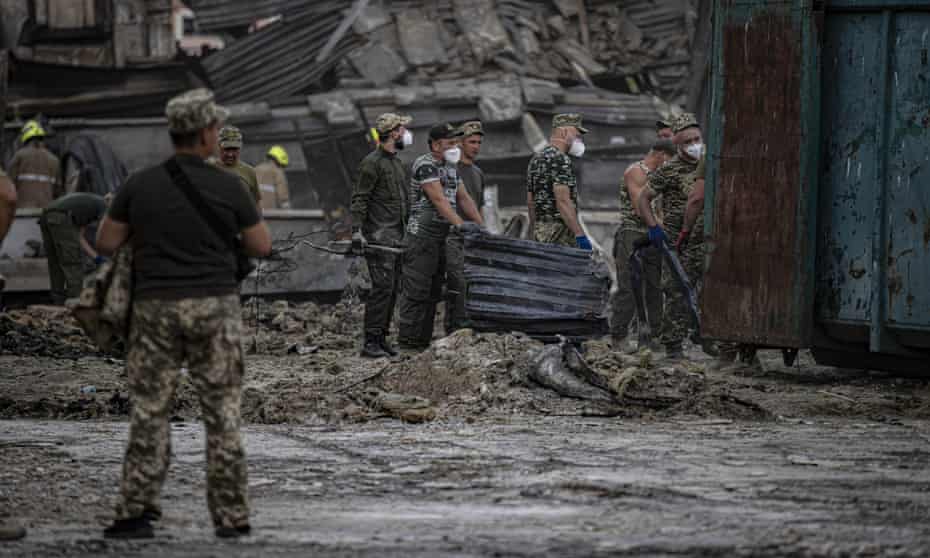 Russia-Ukraine war: what we know on day 127 of the invasion – The Guardian
Read Time:
6 Minute, 32 Second
Russia-Ukraine war: what we know on day 127 of the invasion
Nato says Moscow 'most direct threat' to security; Putin warns over installing military infrastructure in Finland and Sweden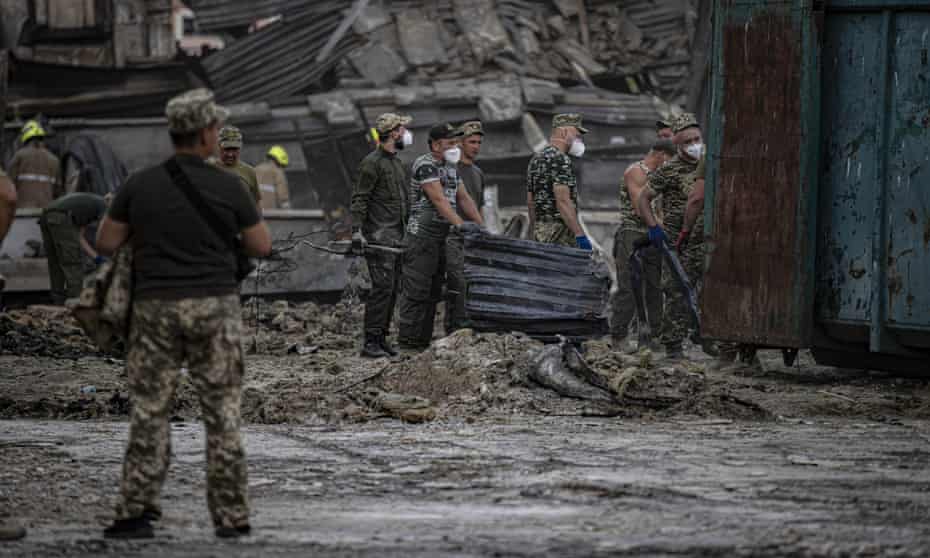 Ukraine's armed forces claim to have expelled Russian forces from the strategically important Black Sea island Zmiinyi, better known as Snake Island. They said "During the night, as a result of a successful military operation with our missile and artillery units on Snake Island, the enemy hastily evacuated the remnants of the garrison in two speedboats and probably left the island. Currently, Zmiinyi is covered with fire, explosions are heard. The final results of the operation are being investigated."
The Russian ministry of defence confirmed it had withdrawn, claiming it is a "step of goodwill" to facilitate grain shipments and calling on Kyiv to demine Ukraine's waters. Russia claimed "This decision will not allow Kyiv to speculate on the topic of the impending food crisis, referring to the impossibility of exporting grain due to Russia's total control of the northwestern part of the Black Sea. Now the word is up to the Ukrainian side, which has not yet cleared the Black Sea coast near its shores, including the port waters."
The frontline eastern city of Lysychansk is under relentless shelling as Russia presses on with its offensive in eastern Ukraine. Ukrainian authorities said they were trying to evacuate residents from the city, the focus of Russia's attacks where about 15,000 people remained. Regional Governor Serhiy Haidai told Ukrainian television: "Fighting is going on all the time. The Russians are constantly on the offensive. There is no let-up. Absolutely everything is being shelled."
One person has been killed and six people have been injured, including an 11-year-old, by Russian attacks in the Kharkiv region according to the latest status update of Oleh Synyehubov, governor of Kharkiv.
The European court of human rights (ECHR) said it had issued an order to Russia to ensure that two Britons captured after fighting for Ukrainian forces do not face the death penalty. It is likely to have limited effect. This month, the Russian parliament passed legislation to end the jurisdiction of Europe's top human rights court in Russia, and two weeks ago a Kremlin spokesperson, in reference to another ECHR ruling, said Moscow no longer implemented its decisions. The Kremlin said the fate of two Britons was a matter for authorities in the self-proclaimed republic in Donetsk in eastern Ukraine.
Nato leaders yesterday announced a new "strategic concept" in response to Russia's war against Ukraine, describing Moscow as "the most significant and direct threat to allies' security and stability". Leaders also pledged further help to Kyiv and agreed on a package of support aimed at modernising the country's defence sector.
Sweden and Finland are expected to formally sign the Nato accession protocol on Tuesday, secretary general Jens Stoltenberg said. The accession protocol must then be ratified by all 30 allied parliaments to allow both countries to become part of Nato and benefit from the alliance's collective defence clause.
Russian president Vladimir Putin earlier issued fresh warnings that Russia would respond in kind if Nato set up military infrastructure in Finland and Sweden after they joined Nato. He said it was inevitable that Moscow's relations with Helsinki and Stockholm would sour over Nato membership.
Putin said Moscow is "open" to a dialogue on "strategic stability, preserving non-proliferation regimes for weapons of mass destruction and improving the situation in the field of arms control". The Russian president said efforts would require "painstaking joint work" and would go towards preventing a repeat of "what is happening today in the Donbas" in remarks to a legal forum in his home city of St Petersburg.
Putin also pushed back against allegations that Russian forces were responsible for a strike on a crowded shopping centre in the Ukrainian town of Kremenchuk on Monday in which 18 people were killed. "Our army does not attack any civilian infrastructure site. We have every capability of knowing what is situated where," Putin said. Moscow said its military fired a "high-precision air attack at hangars where armament and munitions were stored" and the explosion of those weapon caches caused a fire in the nearby shopping centre – a claim discredited by first-hand accounts from survivors and expert analysis.
Russia's former president and current deputy security council chairman, Dmitry Medvedev, said sanctions against Moscow may be seen as an act of aggression and justification for war. He said "I would like to point out once again that under certain circumstances such hostile measures can also qualify as an act of international aggression. And even as a casus belli"
Sweden will send more anti-tank weapons and machine guns to Ukraine, Sweden's defence ministry said Thursday. The arms package, which also includes equipment for mine clearing, is valued at around £40m ($49m).
Spain will gradually raise defence spending to near the equivalent to 2% of the country's gross domestic product by 2029, the prime minister, Pedro Sánchez, has said.
US president Joe Biden has said that he is in favour of supplying new F-16 fighters to Turkey, but needs congressional approval. Meanwhile, Greece has sent an official request to the US for the purchase of 20 Lockheed Martin-made F-35 fighter jets.
The UK's foreign secretary, Liz Truss, has said it is a "realistic" ambition to push Russian forces out of Ukraine entirely. Truss has described Russian president Vladimir Putin as "an appalling dictator perpetrating a war that was neither legal nor justified" and said that "he has ordered the most appalling crimes to be committed in Ukraine."
Norway's foreign minister has said her nation is not blocking Russian access to Svalbard. On Wednesday Russia accused Norway of disrupting the delivery of critical supplies and threatened retaliation. Anniken Huitfeldt said: "Norway is not breaking the Svalbard Treaty. The shipment that was stopped at the Norwegian-Russian border has been stopped on the basis of the sanctions that prohibit Russian road transport companies from transporting goods on Norwegian territory". She said Russia could deliver supplies in a different way, exclusively by ship or by air.
Trade through Lithuania to the Russian exclave of Kaliningrad could return to normal within days as officials edge towards a compromise deal, two sources familiar with the matter told Reuters.
British government complacency is allowing Russian "dirty money" to flow into the UK despite the war in Ukraine, MPs have warned. The Commons Foreign Affairs Committee said the failure of ministers to take effective action meant assets "laundered" through the City of London were being used to finance Putin's war.
Indonesian president, Joko Widodo, has spoken of his visit to Kyiv to meet with Ukraine's president, Volodymyr Zelenskiy, describing the visit as a "manifestation of the Indonesian people's concern for the situation in Ukraine."
Ukraine announced the largest exchange of prisoners of war since Russia invaded, securing the release of 144 of its soldiers, including 95 who defended the Azovstal steelworks in Mariupol. Ukrainian military intelligence said that most of the Ukrainians released had serious injuries, including burns and amputations, and are now receiving medical care.

Zelenskiy announced the end of diplomatic ties between Ukraine and Syria after the Russia-ally recognised the independence of eastern Ukraine's two separatist republics, Donetsk and Luhansk. "There will no longer be relations between Ukraine and Syria," Zelenskiy said, adding that the sanctions pressure against Syria "will be even greater."
Formula One has sought to distance itself from remarks made by its former chief executive Bernie Ecclestone, who said he would "take a bullet" for Putin, whom he described as "a first-class person".