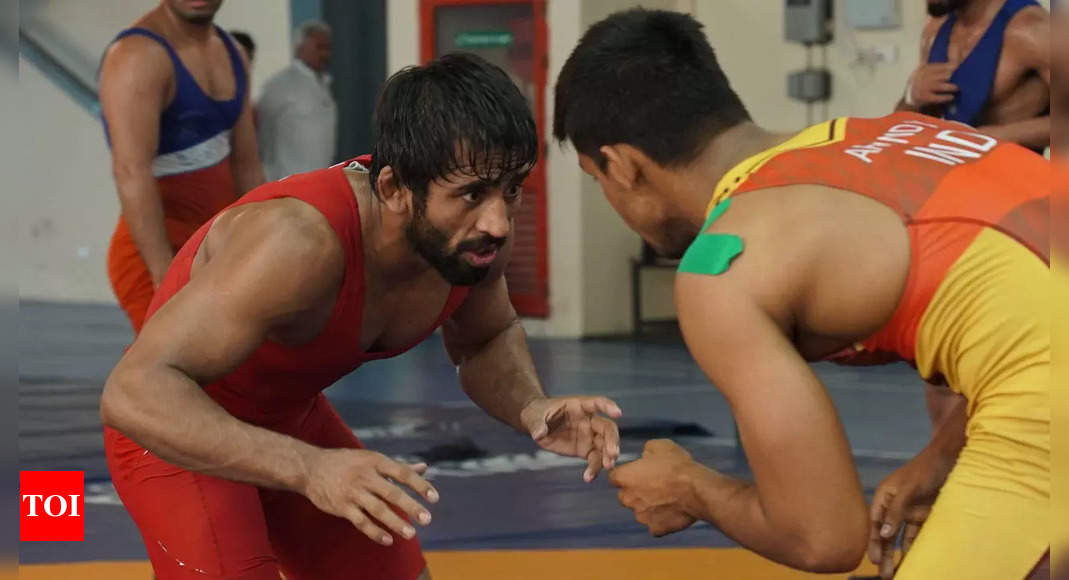 Self-doubts had crept in post Tokyo Olympics due to knee injuries, but now I am the same Bajrang of 2018 – Times of India
Read Time:
2 Minute, 57 Second
NEW DELHI: Star Indian wrestler Bajrang Punia on Saturday revealed that he suffered from insecurities post his career-threatening knee injury in June last year and later settling for a consolatory bronze at the Tokyo Olympics, informing that it took a series of medical tests and doctor consultation to get over his self-doubts in the run up to the upcoming Commonwealth Games in Birmingham next month.
"I realised that my body had become slow, my attacking moves during competitive bouts lacked zing, I can't move rapidly on the mat. Even after the Tokyo Olympics, I couldn't get over my injury concerns. For the next 8-9 months, my mind would only think about the knee injury that I had suffered. There was always this fear of getting injured again, which affected my game," Bajrang, the reigning CWG and Asian Games champion, told media in an interaction facilitated by the SAI.
"It restricted my movement during bouts as I would refrain from going all-out against an opponent. Then, last month, I went for some medical tests to clear my self-doubts. The tests were related to my speed, stamina, flexibility and power. Some were done at the Sports Authority of India's (SAI) Sonepat centre while the others were conducted at a private university. It helped me a lot, as I was back to being the same Bajrang which people used to admire during 2018 and '19 when there were no injury concerns as such."
*Beautiful days do not come to you.* *You must walk towards them.* ✊🏾💪🏼 https://t.co/vlNCPchp0y

— Bajrang Punia 🇮🇳 (@BajrangPunia) 1655958474000
Bajrang would be flying out to the US for a 35-day training camp at the Michigan University ahead of the CWG. The training stint will be part of the wrestler's preparations for the CWG (July 28-August 8) and the World Championships (September 10-18) in the Serbian capital of Belgrade.
"I will get good sparring partners there, as I would be training with the current world No.1 in the 70kg category and another in the 65kg division. It would also help me to concentrate fully on my training for the CWG and the Worlds, away from the disturbances which we athletes usually face while practising in India. Every now and then, there would be some birthday party, marriage function, felicitations or routine friends and family work and, we, as athletes, have to reluctantly attend them so as not to let people feel bad. It's time to focus solely on my training and prepare for the big tournaments ahead," he said.
चाहो तो सब कुछ है आसान! 💪#Wrestling | @wrestling | @BajrangPunia https://t.co/e7tJmHrygl

— Olympic Khel (@OlympicKhel) 1653980401000
Bajrang, who suffered from injuries to both his knees – first to his right during the semifinals of the Ali Aliyev invitational tournament in Moscow in June last year and later to his left knee during a training session at SAI Sonepat in January end – informed that he was fully fit with no latest injury concerns.
"I am competition ready. I am completely fit. After the medical test, I can observe a positive change in my body language and the way I wrestle on the mat. In the last 15-20 days of training, I can again feel the same energy and vibes which I used to experience during 2018 and '19. I can assure you that my fans would see the same Bajrang of 2018 and '19. I have worked on both my leg defense and attack," he signed off.