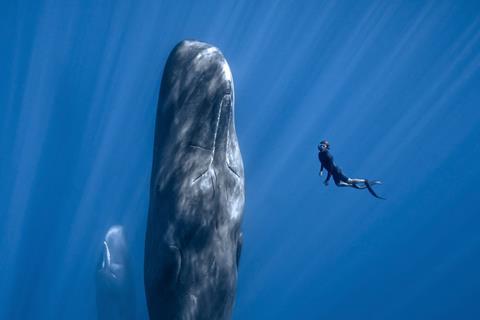 Toronto unveils 2022 TIFF Docs, Contemporary World Cinema line-ups – Screen International
Read Time:
7 Minute, 35 Second
New work from Blackfish director Gabriela Cowperthwaite, Werner Herzog and Klaus H ӓ r ӧ are among TIFF Docs plus Contemporary World Cinema line-ups announced on Wednesday (August 17).
In TIFF Docs, Cowperthwaite's The Grab exposes the systematic acquisition of food and water resources by international governments and private companies. Herzog returns to the fray with Theatre Of Thought , in which he explores the cutting edge of brain research.
The selection includes Mark Fletcher's nature documentary Patrick And The Whale (pictured) and opens with Sacha Jenkins' Louis Armstrong's Black & Blues .
Hӓrӧ's ( The Fencer ) My Sailor, My Love in Contemporary World Cinema tells of a woman who hires a caregiver for her grumpy father, a retired sea captain. The programme includes Marie Clements' Bones Of Crow s, about Catholic Church abuse in Canada.
In total TIFF announced a further 35 world premieres on Wednesday. Anita Lee, TIFF chief programming officer, said: "The films reflect the moment we live in and speak to who we are today, including highly anticipated films by veteran filmmakers from around the globe. "
All selections are world premieres unless stated otherwise. TIFF runs September 8-18.
TIFF Documents
*Previously announced
Presented by A& E IndieFilms.
"This year's TIFF Docs lineup has a wonderful mix of joy, creativity, and ingenuity in the face associated with adversity, " said JPEG Docs programmer Thom Powers, now in his 17th year overseeing the section. "In recent years, we witnessed numerous films launched through this section into distribution deals and Oscar nominations. This year has a rich crop for both. "
*752 Is Not A Number (Can)
Dir. Babak Payami
All the Beauty And The Bloodshed (USA)
Dir. Laura Poitras
North American premiere
*Buffy Sainte-Marie: Carry It On (Can)
Dir. Madison Thomas
Casa Susanna (Fr-USA)
Dir. Sébastien Lifshitz
North American premiere
Ciné-Guerrillas: Scenes From The Labudovi c Reels (Ser-Fr-Cro-Mon)
Dir. Mila Turajlic
*The Colour Of Ink (Can)
Dir. Brian D. Johnson
Documentary Now! (USA)
Dirs. Alex Buono, Rhys Thomas, Micah Gardner
* Ever Deadly (Can)
Dirs. Tanya Tagaq, Chelsea McMullan
Free Money (Ken-USA)
Dirs. Sam Soko, Lauren DeFilippo
Mariupolis 2 (Lith-Fr-Ger)
Dir. Mantas Kvedaravičius
American premiere
The particular Grab (USA)
Dir. Gabriela Cowperthwait
In Her Hands (USA-Afg)
Dirs. Tamana Ayazi, Marcel Mettelsiefen
TIFF DOCS Opening Film
*Louis Armstrong's Black & Blues
Dir. Sacha Jenkins
Maya And The Wave (USA)
Euch. Stephanie Johnes
Miúcha, The Voice Of Bossa Nova (Bra-Fr)
Dirs. Daniel Zarvos, Liliane Mutti
Canadian Premiere
My Imaginary Country ( Mi País Imaginari, Chil-Fr)
Dir. Patricio Guzmán | Chile, France
United states elite
Patrick And The Whale (Aus)
Dir. Mark Fletcher
Pray For Our Sinners (Ire)
Dir. Sinéad O'Shea
Self-Portrait As A Coffee Pot (SA-USA)
Dir. William Kentridge
Theatre Of Thought (USA)
Dir. Werner Herzog
International elite
*To Kill A Tiger (Can)
Dir. Nisha Pahuja
While We Watched (UK)
Dir . Vinay Shukla
DOC Conversations @ TIFF Industry Conference
On September 13, the particular Industry Conference will focus on conversations about the craft and business of documentary filmmaking. Access in order to the programming will be available to all press and industry pass holders.
VISIONARIES: Inside the Brain associated with Werner Herzog
Presented by Showtime
In his new film Theatre Of Thought , Werner Herzog (celebrating his 80th birthday in September) explores the cutting edge of research on the brain. He's joined by two figures who appear in the particular film, brain scientist Rafael Yuste and entrepreneur Jamie Davies, to discuss hopes and fears for the future of brain exploration.
Visionaries: What Laura Poitras Learned from Nan Goldin
Presented by Showtime
Oscar-winning director Laura Poitras ( Citizenfour ) discusses what she learned over three years in the particular making of her brand new film All The Beauty And The Bloodshed . The film profiles the artist Nan Goldin, who has campaigned for museums to disassociate from the patronage of the Sackler family, owners of the opioid company Purdue Pharma.
Dialogues: Covering Afghanistan for In Her Hands
Presented simply by Showtime
A Share Her Journey initiative
The particular new documentary In Her Hands f ocuses on Afghanistan's youngest woman mayor, Zarifa Ghafari, during the tumultuous period of the Taliban's return to power. Filmmakers Tamana Ayazi and Marcel Mettelsiefen share clips while reflecting on the challenges associated with filming under wartime conditions.
Perspectives Truth, Lies, and a Million Dollar Board Game
Presented by Showtime
Filmmaker Vinay Shukla joins to discuss his new film While We Watched , which profiles the journalist Ravish Kumar of NDTV India as this individual struggles to maintain journalistic independence under death threats. For Shukla's previous documentary An Insignificant Ma n, his team created a board game that gained massive support on Kickstarter. He'll discuss plans to follow that model by pairing a board game with his new film.
Perspectives DocuMentality: The Growth of a Movement
Presented by Showtime
DocuMentality is an expanding initiative that seeks to normalise conversations about mental health inside the documentary industry and provide best-practice guidance for filmmakers. The project started with efforts in the UK plus US. Now, the Documentary Organization of Canada (DOC) is spearheading a new wave of focus groups along with support from the North america Media Fund. On this panel, audiences will hear from DocuMentality team member Malikkah Rollins and DOC's Sarah Spring about the particular past, present, and future of the movement. Filmmaker Rebeca Huntt will describe what she learned about maintaining mental balance in the making of her intensely personal film Beba that premiered at TIFF last year. Moderator: Inney Prakash (Maysles Documentary Center).
CONTEMPORARY WORLD CINEMA
Presented by Sun Life.
"TIFF's Contemporary World Cinema Program brings the carefully curated selection of unique stories by established filmmakers and talent with daring visions from all corners of the world, " said Diana Cadavid, international programmer. "Through an ambitious program of more than 50 movies, audiences will have the opportunity to engage with the exciting directions in which cinema can lead our understanding of a wide range of topics and human experiences.
Aftersun (UK-USA)
Dir. Charlotte Wells
North American premiere
Alam (Fr-Pal-Tun-Sau-Qat)
Dir. Firas Khoury
Amanda (It)
Dir. Carolina Cavalli
International signature
Ashkal (Fr-Tun-Qat)
Euch. Youssef Chebbi
North American elite
Autobiography (Indo-Fr-Sing-Pol-Phi-Ger-Qat)
Dir. Makbul Mubarak
North American premiere
Beyond The Wall (Shab, Dkheli, Divar, Iran)
Dir. Vahid Jalilvand
North American premiere
*Blind Willow, Sleeping Woman (Fr-Lu-Can-Neth)
Dir. Pierre Földes
International elite
*Bones Of Crows (Can)
Dir. Marie Clements
*Coyote (Le Coyote, Can)
Dir. Katherine Jerkovic
Domingo And The Mist (Domingo y La Niebla, CR-Qat )
Dir. Ariel Escalante Meza
North American premiere
El Agua (Swi-Sp-Fr)
Euch. Elena López Riera
American premiere
*The End Of Sex S(Can)
Dir. Sean Garrity
EO (Pol-It)
Dir. Jerzy Skolimowski
Northern American premiere
*Falcon Lake (Can)
Dir. Charlotte now Le Bon
North American premiere
*Fixation (Can-USA-Ger)
Dr. Mercedes Bryce Morgan
Godland (Vanskabte Land/Volaða Land, Den-Ice-Fr-Swe)
Dir. Hlynur Pálmason
The Happiest Man In The Globe (Nth Mac-Bel-Slo-Den-Cro-Bos)
Dir. Teona Strugar Mitevska
North American signature
The particular Hotel (HK)
Dir. Wang Xiaoshuai
La Jauría (Col-Fr)
Euch. Andrés Ramírez Pulid
Life (Жизнь, Kaz )
Dir. Emir Baigazin
Living (UK)
Dir. Oliver Hermanus
Canadian premiere
Love and Mathematics (Amor y Matemáticas, Mex )
Dir. Claudia Sainte-Luce
Love Life (Jap-Fr)
Euch. Koji Fukada
Northern American premiere
Luxembourg, Luxembourg (Ukr)
Dir. Antonio Lukich
United states elite
*The Maiden (Can)
Dir. Graham Foy
North American premiere
Manticore (Mantícora, Sp)
Dir. Carlos Vermut
North American premiere
Muru (NZ)
Dir. Tearepa Kahi
International signature
The Sailor, My Love (Fin-Ire)
Dir. Klaus Hӓrӧ
Nightalk (Can)
Dir. Donald Shebib
*North Of Normal (Can)
Dir. Carly Stone
The Origin Of Evil (Fr-Can)
Dir. Sébastien Marnier
North American premiere
Plan 75 (Jap-Fr-Phil-Qat)
Dir. Chie Hayakawa
North American Premiere
Return To Dust (Can)
Dir. Li Ruijun
North American elite
R. M. N. (Rom-Fr)
Dir. Cristian Mungiu
American premiere
*So Much Tenderness (Can)
Dir. Lina Rodriguez
Sparta (Aus-Fr-Ger)
Euch. Ulrich Seidl
*Stellar (Can)
Dir. Darlene Naponse
Stonewalling (Jap)
Dir. Huang Ji, Ryuji Otsuka
United states premiere
*The Swearing Jar (Can)
Dir. Lindsay MacKay
The Umbrella Men (SA)
Dir. John Barker
International elite
Under The Fig Trees ( Tun-Swi-Fr-Qat)
Dir. Erige Sehiri
North United states premiere
Valeria Is Getting Married (Is)
Euch. Michal Vinik
North American premiere
Victim (OBEŤ, Slov-Cze-Ger )
Dir. Michal Blaško
North American premiere
Vicenta B. (Cub-Fr-USA-Col-Nor)
Dir. Carlos Lechuga
War Sailor ( Krigsseileren, Nor-Ger )
Dir. Gunnar Vikene
International premiere
We Are Still Here (Aus-NZ)
Dirs. Beck Cole, Dena Curtis, Tracey Rigney, Danielle MacLean, Tim Worrall, Renae Maihi, Miki Magasiva, Mario Gaoa, Richard Curtis, Chantelle Burgoyne
International elite
Wildflower (USA)
Dir. Matt Smukler
Winter Boy (Le Lycéen, Fr )
Dir. Christophe Honoré
The Worst Ones (Fr)
Dirs. Lise Akoka, Romane Gueret
North American premiere
Zwigato (Ind)
Dir. Nandita Das
Discovery
Presented simply by Dyson.
Bruiser (USA)
Dir. Miles Warren.