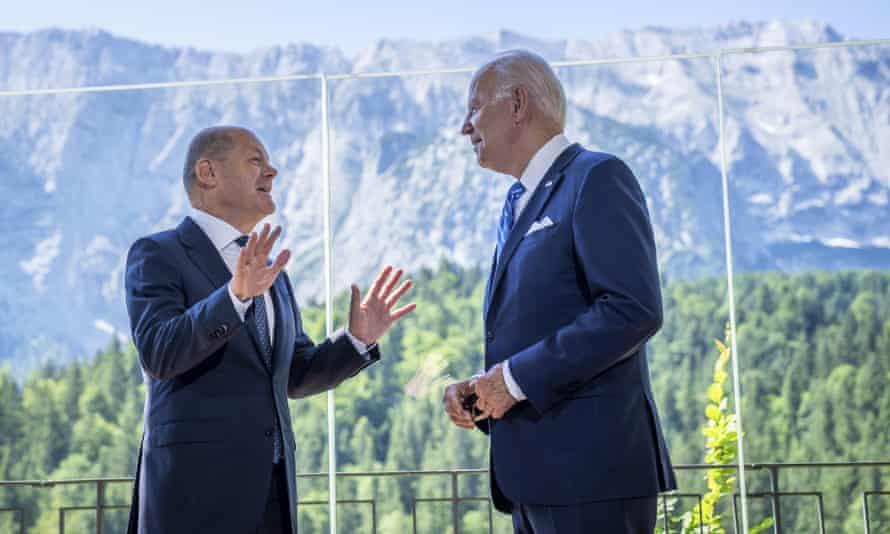 Ukraine forces 'recapture 20% of territory lost in Sievierodonetsk' – as it happened – The Guardian
Read Time:
11 Minute, 5 Second
Russia attacked the Ukrainian capital in the early hours of Sunday morning, striking at least two residential buildings in the Shevchenkivskyi district, Kyiv's mayor, Vitali Klitschko said.
Emergency services said that as a result of the Russian shelling a fire broke out in a nine-storey residential building, which had been partially damaged in the attack.
Klitschko said that residents are being rescued and evacuated from two buildings.
"There are people under the rubble," Klitschko said on the Telegram messaging app. He added that several people had already been hospitalised.
"They (the rescuers) have pulled out a seven-year-old girl. She is alive. Now they're trying to rescue her mother."
Air raid sirens regularly disrupt life in Kyiv, but there have been no major strikes on the city since 5 June, when a rail car repair facility was hit on the outskirts, and a late April shelling when a Radio Liberty producer was killed in a strike that hit the building she lived in.
The historic district, one of Kyiv's central, is home to a cluster of universities, restaurants and art galleries.
The blasts occurred around 6.30am local time, half an hour after air raid sirens sounded in the capital.
Our correspondent, Lorenzo Tondo, tweeted this.
Ukraine fears Russia could attack Kyiv throughout the day.
Russia's defence ministry said on Sunday it had used high-precision weapons to strike Ukrainian army training centres in the Chernihiv, Zhytomyr and Lviv regions of Ukraine, Russian news agencies reported, Reuters reports.
Earlier on Sunday Ukraine had said that Russian missiles struck the Ukrainian capital Kyiv.
Meanwhile, Russia's foreign minister Sergei Lavrov has accused Ukraine of trying to cancel its Russian history. The Russian embassy in London tweeted Lavrov saying that Ukraine has no history at all without Russia.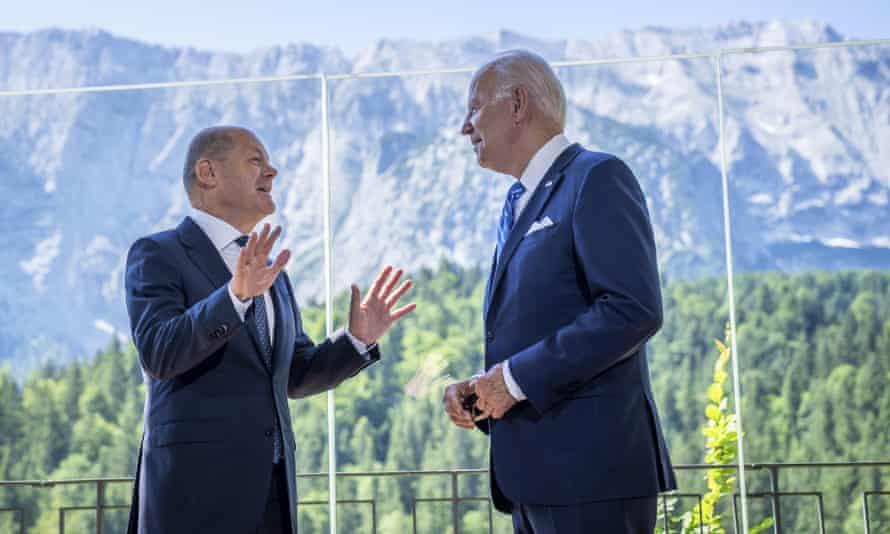 US President Joe Biden on Sunday praised Germany's Chancellor Olaf Scholz for his leadership in the wake of Russia's war against Ukraine and urged the West to stay united, AFP reports.
"We have to stay together," Biden told Scholz at a meeting ahead of the G7 summit in the German Alps.
Russian President Vladimir Putin had been hoping "that somehow NATO and the G7 would splinter," Biden said. "But we haven't and we're not going to."
Biden met his German host in the picturesque Elmau Castle where the G7 – Britain, Canada, France, Germany, Italy, Japan and the United States – was holding a three-day summit dominated by the crisis in Ukraine.
Biden praised Scholz's leadership as current chair of the G7 at a time of upheaval in Europe triggered by Russia's war and subsequent global economic fallout.
"I want to compliment you for stepping up as you did when you became chancellor" and "the way you had a great impact on the rest of Europe to move, particularly relating to Ukraine," Biden told Scholz.
The 79-year-old Democrat also fondly recalled his skiing days, telling Scholz that the Alpine setting was "beautiful."
A senior US official said Washington has been "investing very heavily" in the relationship with Germany since Biden took office almost two and a half years ago.
Their talks were "a good opportunity to affirm the deep and enduring ties between our two countries. In terms of the meeting agenda, expect that Russia and Ukraine are going to be at the top of the list, including our continued close coordination on the political and diplomatic front," the official said.
The BBC's Myroslava Petsa puts today's missile strikes against Kyiv in context.
Meanwhile, at the G7 summit in Bavaria: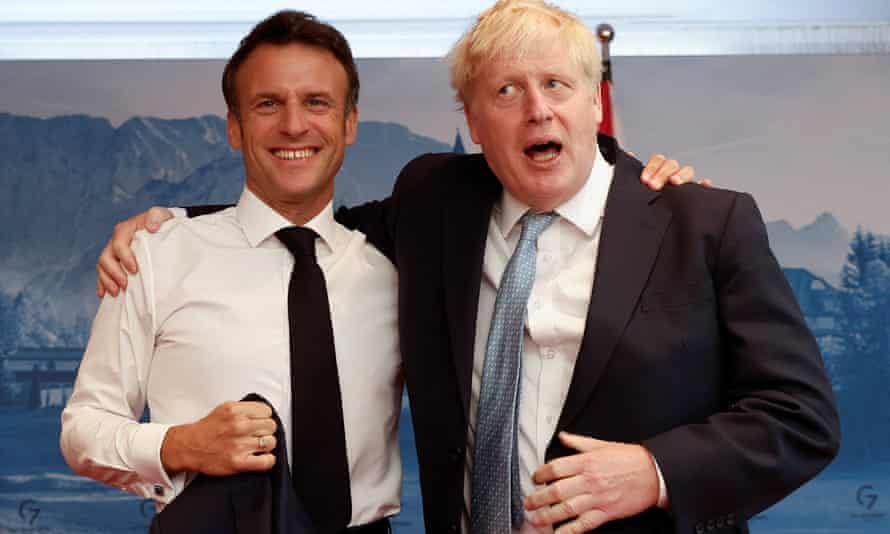 Speaking at the G7 summit in Germany, Boris Johnson stressed the need for continued unity in response to the war in Ukraine. He said: "Realistically there is going to be fatigue in populations and politicians."
Asked if he was worried about that support fracturing, the prime minister said:
I think the pressure is there and the anxiety is there, we've got to be honest about that.

But the most incredible thing about the way the West has responded to the invasion of Ukraine by Putin has been the unity – Nato has been solid, the G7 has been solid and we continue to be solid.

But in order to protect that unity, in order to make it work, we've got to have really, really honest discussions about the implications of what's going on, the pressures that individual friends and partners are feeling, that populations are feeling – whether it's on the costs of their energy or food or whatever.
Ahead of a meeting with Emmanuel Macron, Boris Johnson was asked whether France and Germany are doing enough over Ukraine.
In his response, Johnson focused on the German response without mentioning France.
Just look at what the Germans alone have done.

I never believed in my lifetime that I would see a German Chancellor stepping up in the way that Olaf Scholz has and sending weaponry to help the Ukrainians to to protect themselves.

He's made huge, huge strides. We have 4% of our gas comes from Russia, in Germany, it's 40%.

They're facing real, real pressures, they're having to source energy from elsewhere. But they're doing it. They're making the effort. They're making the sacrifice. That's because they see that the price of freedom is worth paying.

This is something that it's worth us standing up for together. And that is the principle that a free, independent sovereign country like Ukraine should not be violently invaded and should not have its boundaries changed by force.

And the consequences of what's happening for the world are tough, but the price of backing down, the price of allowing Putin to succeed , to hack off huge parts of Ukraine, to continue with his programme of conquest, that price will be far, far higher and everybody here understands that.
Kyiv was hit by four Russian missile strikes early on Sunday morning for the first time in three weeks, during which life had been slowly returning to the Ukrainian capital in the relative calm.
Columns of smoke rose over the central Shevchenkivskyi district, home to a cluster of universities, restaurants and art galleries at 6.22am. Kyiv's mayor, Vitali Klitschko, said two residential buildings had been hit in what he called an attempt to "intimidate Ukrainians" before a Nato summit in Madrid beginning on Tuesday.
Around 11am, there were at least several unconfirmed reports of two more explosions in Kyiv.
Read the full story here:
A price cap on Russian oil, deferral of climate change commitments, a potential famine in Africa and the further supply of weapons to Ukraine are to crowd into a meeting of G7 world leaders over the next three days held against the backdrop of the biggest geopolitical crisis since 1945.
The agenda reveals how the world has been turned upside down since leaders of the industrialised nations last met in Cornwall a year ago in a summit chaired by Britain, largely to focus on the threat posed by China.
Before the summit in Germany, Boris Johnson issued a warning for the west not to show war fatigue, a point that will be echoed when the Ukrainian president, Volodymyr Zelenskiy, addresses the meeting by video link. He is expected to emphasise the difficulties his troops are facing in eastern Ukraine as well as the need for heavier long-range weapons.
Read the full story here:
Anton Gerashchenko, an advisor to Ukraine's minister of internal affairs, confirms that one of those injured in the missile strike against an apartment block in Kyiv was a Russian woman. "Russians shoot Russians," he tweeted.
Ukrain's foreign minister, Dmytro Kuleba, said G7 countries must respond to new missile strikes against Ukraine on Sunday by imposing further sanctions on Russia and providing more heavy weapons to Ukraine.
Members of the G7 have confirmed a ban on imports of Russian gold at the start of their summit in the Bavarian Alps, Reuters reports.
The move by Britain, the United States, Japan and Canada is part of efforts to tighten the sanctions squeeze on Moscow.
Boris Johnson said in a statement:
The measures we have announced today will directly hit Russian oligarchs and strike at the heart of Putin's war machine.

"We need to starve the Putin regime of its funding. The UK and our allies are doing just that.
A senior US administration representative said the G7 would make an official announcement on the gold import ban on Tuesday.
"This is a key export, a key source of revenue for Russia in terms of their ability to transact with the global financial system," the US official said.
Russian gold exports were worth £12.6bn ($15.45bn) last year and wealthy Russians have been buying bullion to reduce the financial impact of Western sanctions, the British government said.
As well as the gold import ban, G7 leaders were also having "really constructive" talks on a possible price cap on Russian oil imports, a German government source said.
Explosions were heard in the central Ukrainian city of Cherkasy on Sunday, regional governor Oleksandr Skichko said on the Telegram app, according to Reuters.
He did not give further details. Cherkasy, which is 200km south-east of Kyiv, has been largely untouched by bombardment since Russia invaded Ukraine in February.
Ursula von der Leyen, the president of the European Commission, says the EU will "stand with Ukraine for as long as it takes".
Boris Johnson, who is also in Bavaria for the G7 summit made a similar statement of solidarity with Ukraine.
There are several unconfirmed reports of more explosions in Kyiv.
A Reuters reporter heard two explosions in the southern outskirts of the capital.