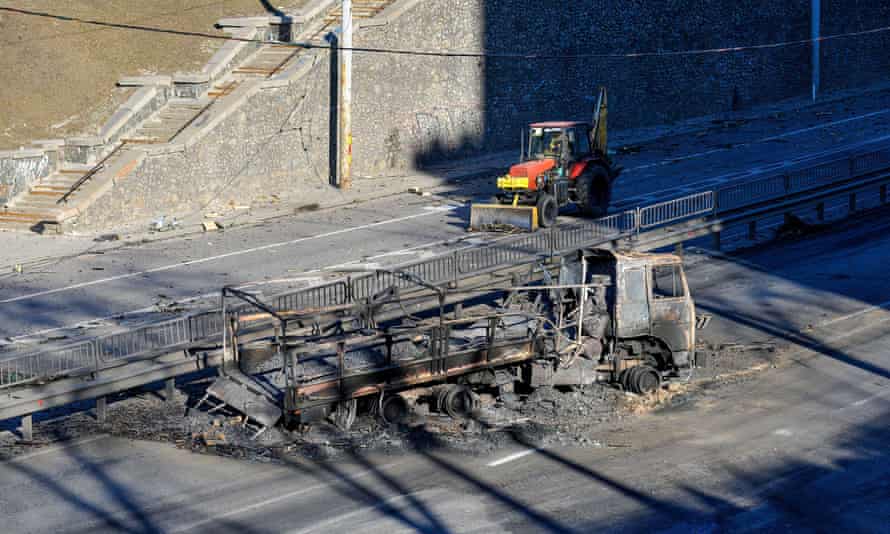 US senator says Moscow's plans are behind schedule – as it happened – The Guardian
Read Time:
7 Minute, 17 Second
This blog is closing. Our live coverage continues here:
We've just got some video showing a military base on fire near Kyiv after a reported airstrike on Monday night. The base is located in the city of Brovary, 25km north-east of the capital.
There are reports of air-raid sirens in several Ukrainian cities on Tuesday morning as the nations braces itself for another day of bombing by Russian forces.
The Kyiv Independent media outlets says the sirens are going off in Rivne west of Kyiv, along with Ternopil, Vinnytsia and Volyn.
British prime minister Boris Johnson is due to fly to Nato's border with Russia on Tuesday, pledging that Vladimir Putin will "feel the consequences" for invading Ukraine.
Boris Johnson will travel this morning to meet counterparts in Poland and Estonia and visit British troops as he pushes for western unity in punishing the Russian president for starting a conflict that has taken "hundreds" of lives in only five days.
Before his trip to eastern Europe, Johnson urged allies to "speak with one voice" to ensure "Putin must fail". Johnson said:
Alongside all our international allies the UK will continue to bring maximum pressure to bear on Putin's regime to ensure he feels the consequences of his actions in Ukraine. We speak with one voice when we say, Putin must fail.
Russian troops based in the country's far east are heading for manoeuvres closer to Europe, the Interfax news agency quoted Russia's eastern military district as saying on Tuesday.
The troops will hold drills in the Astrakhan province which lies on the border between the European and Asian parts of Russia, and will train in long-distance movements of military units, among other tasks, the district command said.
And Sony has joined Disney and Warner by suspending the release of new films in Russia.
The company said its latest release, Morbius, would be among those put on hold in Russia.
Mastercard said late on Monday US time that it has blocked multiple financial institutions from its payment network as a result of sanctions imposed on Russia over Moscow's invasion of Ukraine.
Mastercard will continue to work with regulators in coming days, the company said in a statement. It also promised to contribute a $2m for humanitarian relief.
Russia's invasion of Ukraine has fallen behind schedule thanks to fierce local resistance, and multiple Russian equipment and logistics failures, according to a classified US government briefing attended by US senator Chris Murphy.
1/Confirmation that the Russians have fallen behind their timeline. Ukrainian resistance has been fierce and there have been multiple Russian equipment and logistics failures.
In a series of tweets in the last hour, Murphy adds that the defence department and the homeland security department are pushing hard for Congress to approve Joe Biden's plan for at least $6.4bn in supplemental funding to help Ukraine, which will require cooperation from both parties.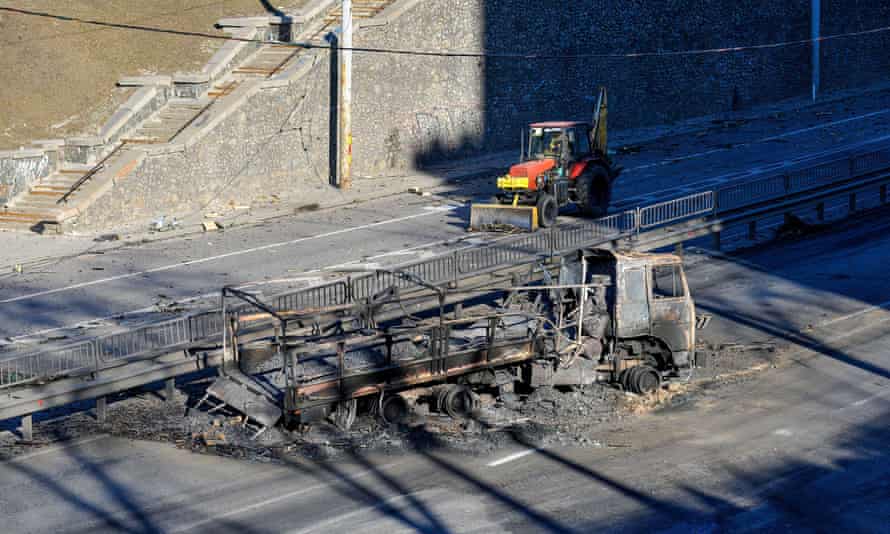 He adds that it is expected that the fight for Kyiv will be "long and bloody".
2/DoD and DHS are pressing hard for Congress to end the continuing resolution and get a budget passed. There is no way for our national security agencies to be nimble enough to support Ukraine if they are operating on the 2020/21 budget.

3/ The ability to keep supply lines running to Ukraine remains alive, but Russia will try to encircle and cut off Kiev in the next several weeks. The fight for Kiev will be long and bloody and Ukrainians are rapidly preparing for street to street combat.

4/ The U.S. and allies are coordinating to not only freeze the assets of Putin and his oligarch allies, but to seize those assets as well. This is likely a further step than Putin's inner circle anticipated.
Some of Britain's biggest businesses have already pulled out of Russia in what is a highly significant move for UK plc.
Shell and BP have both profited enormously from their joint ventures in Russia's huge oil fields but they have now withdrawn. Our business team looks at the "great decoupling" of British business here, while our business commentator Nils Pratley argues that there is no going back for the oiil giants.
The rush to disinvest from Russia is impressively quick since it's possible to imagine an alternative script in which the oil companies' boards tried to buy time by issuing woolly "all options are open" statements. A definitive statement to sell its 20% stake in Rosneft (in BP's case) and ditch all partnerships with Gazprom (Shell's position) leaves no ambiguity. There can be no going back.
The sanctions arraigned against Russia seem to spread by the hour, with Hollywood film studios Disney and Warner the latest organistations to cut ties with Vladimir Putin's state.
The Walt Disney Co said on Monday US time that it is pausing the release of theatrical films in Russia, starting with the upcoming Pixar release, Turning Red.
Within hours, WarnerMedia said it would pause this week's release of The Batman in Russia.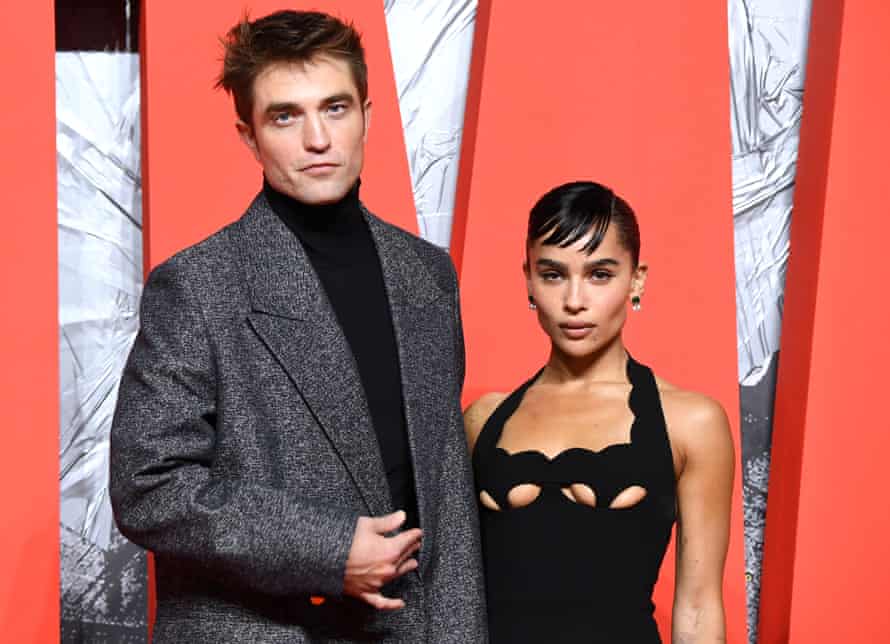 "We will make future business decisions based on the evolving situation" Disney said in a statement. "In the meantime, given the scale of the emerging refugee crisis, we are working with our NGO partners to provide urgent aid and other humanitarian assistance."
The Ukrainian Film Academy created an online petition that called for an international boycott of Russian cinema and the Russian film industry following the invasion.
Still on the space theme, AFP reports that Nasa is looking at how it can manage the international space station without Russian help.
The collapse of the rouble provided a big talking point in Monday's coverage and was followed by a dramatic doubling of interest rates by the Central Bank of Russia to protect the currency.
Our Moscow correspondent Andrew Roth went out on the streets to talk to people trying to withdraw money from the banks "before it was worth zero".
The country could soon be facing a severe recession and one businessman told Andrew: "I'm going to tell them that we are going into a crisis that we have never experienced before. It's like flying on a plane with no engines or the engines are on fire."
The rouble relatively stable in early trading on Tuesday at around 105 to the US dollar. But this chart has a dramatic graph shwoing how far the rouble has crashed in value against the greenback in the past decades.
Here's our latest roundup of what we know so far about day six of the invasion of Ukraine:
Ukraine has received donated Starlink satellite internet terminals from SpaceX.
"Starlink here. Thanks, @elonmusk," Ukraine's vice prime minister, Mykhailo Fedorov, tweeted, days after asking SpaceX's billionaire chief executive officer Elon Musk for help.
The terminals look like home satellite television dishes and can provide relatively fast internet service, by residential standards, by connecting to a fleet of satellites in low orbit.
Fedorov's tweet included a picture of the back of a military-looking truck, loaded with terminals.
Musk tweeted back, "You are most welcome".